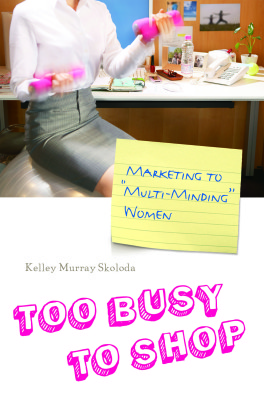 A must-read for every marketer or business owner, Too Busy to Shop: Marketing to Multi-Minding Women addresses the biggest challenge in marketing to women today, multi-minding. Kelley Skoloda provides a better way to reach multi-minding female consumers and a veritable salon of wisdom via interviews with some of today's most experienced and knowledgeable experts in the field.
Multi-minding is a cultural phenomenon that is here to stay. That's why one study shows women feel they are "packing 38 hours of activity into a 24-hour period." But studies also show that most women feel marketers are ignoring their needs. That's a big mistake considering women spend $3.3 trillion annually on consumer products.
If you still consider women a marketing niche segment, this book by brand expert Skoloda is a must read…this book offers a treasure trove of timely insights on how to better understand and engage women consumers. – Publishers Weekly
Too Busy to Shop explains what marketers need to know about multi-minding—a word coined by Skoloda and Ketchum—and its implications for companies seeking to speak to women buyers. Besides theory and insight, readers get how-tos and action items designed to ensure women view their brands favorably and "hear" the marketing message. The book also contains insiders' views of some of the most successful marketing-to-women campaigns of recent times.
In short, Too Busy to Shop helps marketers understand multi-minding in depth—an essential task if they want to reach today's overloaded female consumer.
View the Table of Contents